HHWET Chairs Report 7 April 2021.
April 7, 2021
Chairs Newsletter
Welcome to this update on the Hekeao Hinds Managed Aquifer Recharge (MAR) project. It was great  to see so many members of our community at the recent sessions we held in Mayfield and Hinds. It's  very important that we receive support for the proposed targeted rate in the Environment  Canterbury 2021/31 Long Term Plan. This will enable continuation of the MAR project. To submit on  this, you need to visit the ECan site https://haveyoursay.ecan.govt.nz/ltp by 11 April. 
Scheme Update
Members of our community know that the MAR project, alongside improved land use practices, is essential to enable us to meet required environmental outcomes specified in Plan Change 2 to Canterbury's Land and Water Regional Plan and under proposed changes in Essential Freshwater NPS FM 2020. There is no plan B!
We know that MAR works because we now have five years of data from when we commenced the Phase 1 Proof of Concept pilot, through to today.
Over that time frame we can demonstrate significantly lower nitrate concentrations and increased groundwater levels up to 7km down-gradient from larger MAR sites, increased Hekeao Hinds River flow when nearby MAR sites are operating and additional biodiversity gains at MAR sites.
This infographic shows how MAR works.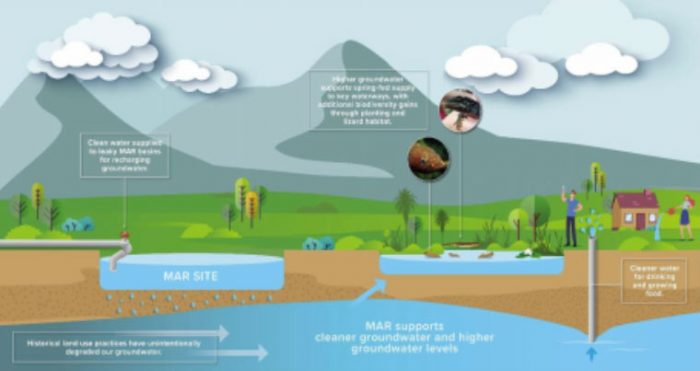 Business Case
As part of the project assessment, we concluded a business case that clearly shows if we don't receive targeted rate funding for MAR to continue then we face:
Increased requirement for on-farm mitigations; 
Increased on-farm costs and capital value reductions; 
Farm productivity and stocking rate reductions and  
An environment dominated by regulation and litigation and with associated economic  implications. 
The business case clearly demonstrates that the inclusion of MAR in the multi-pronged PC2 approach is a better economic option for the district with the potential for $190 million of additional economic activity due to MAR, including $35 million for the local district.
The business case identified that the capital cost for the scheme from 2022 would be $6million with annual operational costs of between $0.4 million and $1.7 million, (depending on the cost and volume of water supply). An additional $400,000 is required for related biodiversity improvements.
To cover the cost of the work programme Environment Canterbury are planning a targeted rate  based on the three zones in the map below.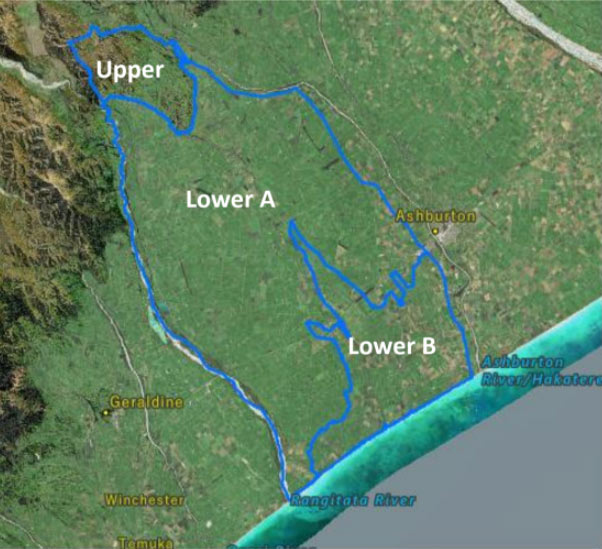 In the original LTP consultation document Environment Canterbury made a mistake with  calculations. The correct calculations are: 
| | | | |
| --- | --- | --- | --- |
| Year | Upper Hill and downs, extensive farming | Lower A Plains, shallower soils | Lower B Coastal drainage area |
| Year 1: 2021/22 in draft LTP | $7.22/$100k CV | $28.90/$100k CV | $28.90/$100k CV |
| Year 2: 2022/23 in draft LTP | $3.31/$100k CV | $13.23/$100k CV | $13.23/$100k CV |
| Year 2: 2022/23 with enhancements | $9.79/$100k CV | $39.15/$100k CV | $39.15/$100k CV |
Targeted rates (inc GST) per $100,000 of property value 
Once again, I urge you to submit on the plan by 11 April to meet the deadline. If we do not receive sufficient support for the targeted rate, enhanced activity will not go ahead with potential significant  longer-term implications for our operations and catchment. 
You can find out more about the business case and the project at https://www.hhwet.org.nz/pilot programme/ or follow us on Facebook at https://www.facebook.com/HekeaoHindsWET
Please feel free to contact me if you want to discuss this further M: 0272233784
Peter Lowe
Chair of Hekeao / Hinds Water Enhancement Trust (HHWET).
Categorised in: Press Articles